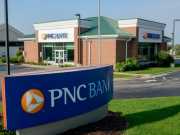 The Boulder Group, a net leased investment brokerage firm, has completed the sale of a single tenant PNC Bank Ground Lease located at 6616 Crossings Drive SE in Walker, Michigan (Grand Rapids MSA) for $1,490,000.
Ehrhardt Clinical Research, LLC (ECR) will be taking donations of bottled water and money for the Flint Michigan Water Crisis. ECR would like the help of Kansas City and its surrounding area to help us send as much water and help as we can to overcome this tragic situation in Flint. As a health care business we feel it is our duty to care for those in need and we see this as a great opportunity to help along with our fellow citizens.
Consumers Energy is providing a new, more streamlined bill for its customers, which is being sent by mail and email this week to households and businesses across Michigan. "We want to make it simple for residents and business owners to understand their bills and easily find and use the information they need," said Garrick Rochow, Consumers Energy's vice president and chief customer officer.
Consumers Energy is moving forward with plans to add new sources of renewable energy in Michigan, launching its community solar program called Solar Gardens
Consumers Energy today honored Michigan International Speedway for its commitment to renewable energy, naming Michigan's largest racetrack as its Green Generation Customer of the Year.